We are so pleased that after just 5 months of trading we were awarded the New Travel Agent of the Year award at this year's Lusso Travel Awards.
Lusso are specialist luxury travel experts with access to the best luxury hotels from around the world. They only work with handpicked travel agents who they believe reflect their brand and can help their clients find their perfect luxury holiday.
Black Opal were nominated for Best New Agent 2019 and Best North West Agent.
Gareth Hulmston, Sales Director at Lusso commented 'We have quickly built up an impressive partnership with Black Opal Travel Group since they started supporting us around 5 months ago. During this time they have delivered a number of impressive holiday experiences which rocketed them into the finalists list for our 'Best New Agent 2019' category. It was with great pleasure to announce at our UK National Awards at the Corinthia Hotel in London last month that Black Opal had won Best New Agent of the Year 2019. We are very much looking forward to working with them over the coming year and beyond.'
Jamie Smith, Managing Director said 'We are so pleased to have been recognised within the industry following our first 5 months of trading. Lusso are very highly thought of in the luxury travel market and it is great that we have been able to forge such a great working relationship with them which allows us to find some of the best deals for our clients. We look forward to working with them on many more client travel experiences'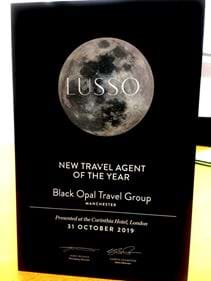 Back to all blog posts

Make an enquiry
0330 041 4888
From the blog