Our very own Gladstone Small and Jason Roy recently sat down for a Q&A about Jason's 2019 cricket achievements and what it was like to be part of a great Summer of Cricket.
2019..... don't think you will forget this year in a hurry?
Absolutely not! An unforgettable year. Birth of my first child, winning the World Cup and playing in Ashes cricket. All be it the Ashes didn't go to plan however the experience and the memories I have from the field this year are going to be hard to beat! 
What order would you place those events/occasions in terms of personal experiences?
Having my first child, World Cup, Ashes. Even if we had won the Ashes and I had been dominant then I would still rank the World Cup above it, purely for the fact it's something we have been working for as a squad and management for 4 years. 
Opening the batting or going in the middle order?
I would obviously say opening the batting in the short form; however, I feel I'm best suited to a team in the middle order in the longer format. 
How tense was it in the dressing room prior to the World Cup Final super-over?
Weirdly we were absolutely buzzing because we didn't think we were going to get that close, so to now be in with a sniff after struggling with our run chase was exciting! We knew we had the firepower with the bat, and we know we have an incredibly talented death bowler in Jof, so we just got on with it. It was just an incredible buzz. No doubt there were nerves flying around and I was definitely feeling them but at the end of the day, we had to pull ourselves together and get on with it. 
What would you change if you could replay your tests innings again?
Great question! Hindsight is a fantastic thing; at the time I wasn't going to change a thing. I found it extremely tough going into the test arena after the World Cup and to be opening was foreign territory as well. But a number of occasions there wasn't much I could do as I was facing the best attack in the world and I got some pretty good deliveries. It was a huge bummer that it didn't go to plan as I had worked so hard to get my foot in the door. It was also a bit of a dampener to my cricketing year, but it is what it is and I have to come back stronger! 
A crucial part of a sportsperson makeup is to overcome disappointments....how do you plan to put the second half of last summer to right?
I had a good month off and got the itch back for batting. I'm going to try my best to take my game to the next level in white-ball cricket. Again, I'm in the situation that I'm going to have to push for my test spot by a volume of white-ball runs, which I'm happy with and extremely excited about. 
You are only aged 29 and a batsman to boot so plenty of years left to stamp your mark, are you ambitious enough to meet the challenges ahead?
Of course. I've always been an ambitious man so I'm always trying to better myself. I'm extremely excited about the years to come and playing my part in world cups and potentially test cricket for England. 
How do you plan to spend your winter months?
Most of my winter plans like always are spent either with England touring or playing franchise cricket. We have an ODI and T20i series in South Africa in February and that's it for me for international duties in the winter. However, I'm out here in SA now for a T20 comp, then there is the PSL in March which I'm potentially going to and then hoping for a gig in the IPL. The auction for that is December so fingers crossed! All that leads nicely into the English summer which is another huge one as we have the T20 World Cup at the end of it. 
What was the best part of celebrating England cricket summer success?
Just celebrating everybody's individual success and the success of the team. Like I said before the amount of hard work and dedication that was put into the World Cup was insane and to come out and win it was just incredible!
Jofra Archer or gentle throw-downs in the nets?
I will take gentle throw downs in the net's thanks. 
Pity the England rugby team couldn't quite pull off the World Cup double, did you watch the match and how were you able to shut your dad up afterwards?
It was a huge shame and they really deserved it after the rugby they played all tournament. Shutting my Dad up wasn't easy, but SA played an incredible game and it's the best they have played in years so all credit to them.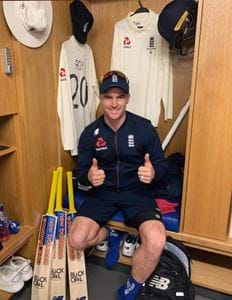 Back to all blog posts

Make an enquiry
0330 041 4888
From the blog