Glenn Evans recently returned to Zambia and his influence saw the creation of the Kakumbi Chiefs cricket team. Read his story below. 
It all started when I decided to take my bat and a tennis ball to Yosefe School in 2016 after work one evening. I didn't really have a plan as such, aside from my own selfish urge to play some cricket. I just knew that if I started hitting a ball around on my own, someone would eventually come and join me. After a few minutes, I noticed a few deserters of the next-door soccer game start to head over in my direction. Before I knew it, I was hitting catches to a group of about twenty kids and the cricket had stolen half of the football team!

Now, two years on, we have settled into a committed core group of about 15 players (and about 20 young ball boys and girls who hang around the periphery collecting stray shots), most of which have been involved since day one. We have 'moved up in the world' and now have a concrete slab used for batting practice, which means we can train through the rainy season when previously our training area would become too wet and muddy.
It has been amazing to see their improvement in such a short space of time. The natural athleticism of the Zambian children is incredible. One player, Amos, is now shown the ultimate sign of respect by his teammates who retreat to the boundary ropes the second he is given the bat. Danford, one of the unlucky ones who had his arm splinted to prevent him from haphazardly chucking the ball in the early days, now delivers consistent line and length, and can skittle even the most competent of batsmen.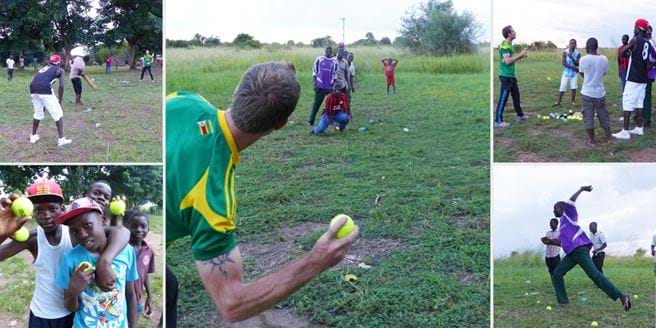 The club has provided more than just exercise for the players. Many of the children had never participated in soccer, meaning their choices were limited to sitting at home or wandering up and down the airport road looking for entertainment. Together, we've created a training environment of encouragement, laughter, respect and comradery. We do not discriminate on who can play – boys and girls of all ages are welcome, regardless of which school (if any) they come from or whether or not they have previous experience.
Next year, we are aiming to move to a new ground which is currently being built under the supervision of His Royal Highness Chief Kakumbi. After a meeting with the honourable Chief, he welcomed the idea of having the cricket pitch in his grounds and was positive that cricket would be a worthy addition to the complex, which will boast basketball, football, netball and volleyball. The move to our new ground will also bring a new nickname for the team, the 'Kakumbi Chiefs'.
I have no doubt that if we can continue training, the team will reach a level whereby touring cricket teams can come to the Luangwa, enjoy a safari and try their luck against the formidable Kakumbi Chiefs! Perhaps one day, we will see one of the players at the national level, and they will be proud to say they started playing cricket in the dusty fields of Mfuwe. For now, we continue training for fun and look forward to every Thursday for a chance to get Amos out, or to hit Danford for a six!
Back to all blog posts