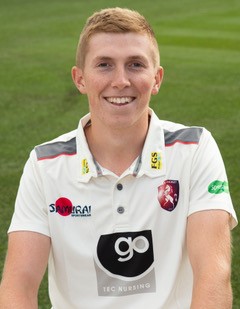 Gladstone sat down with the newest member of the team, Zak Crawley, to chat about the recent success in South Africa.
How did you feel being included in the SA Test Match team and then winning the series?
It was the best month of my career to date. Winning away from home is a great achievement wherever England play but to beat SA and to be a part of it was very special.
Who is/was your batting hero?    
Ricky Ponting                                                                                    
Opening partnerships, particularly in the first innings of a test match are vital, the century stand with Sibley proved quite so?
They can be important for sure and I suppose it does make it easier for the middle order. But they still have to get the runs and they certainly got a lot of them this series. And the lower order chipped in for some key runs as well. I think everyone did their roles at some stage through the series.
At well over 6ft tall was the temptation ever there to be a fast bowler?
No, I always preferred batting. Didn't fancy all those niggles. Plus, I was never very good.
"Catches win matches" and you've hung onto a few smart catches especially that stinger at Newlands off Stokes?
I was pleased with the way I caught this series but there is no worse feeling than dropping a catch so I won't be resting on my laurels. That was a great feeling at Newlands though.
You are a bit of a bat twiddler.....nervous energy or just a reflex motion?
No just something that I like to do to keep me focused.
What's your way to relax on tour to get away from cricket?
Love my golf. Happy to play a bit of cards as well.
Must be good fun/banter having quite a few teammates of a similar age?
Yes, it certainly made the trip a lot easier spending a lot of time with people I've known for ages. Hopefully we can go on a few more trips together.
What's the main adjustment you need to make to your game to give yourself a chance to perform in test cricket arena?
Cashing in when I get the chance. I've proven to myself that I can get myself in now. Hopefully moving on to some bigger scores in the future.
'Now just for fun, our quick-fire round..'
Chicken, steak or fish for dinner?
Fish
What tunes are on your playlists?
Iris by Goo Goo Dolls
Boulevard of Broken Dreams by Green Day
2 out of a thousand in my head
Movies watcher or Games player?
Movie watcher definitely
Back to all blog posts